Course Details
Duration: 2 hours
Contact Details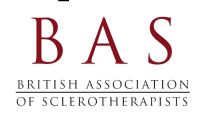 British Association of Sclerotherapists (BAS)
Contact:
Hilary Furber

Address:
The Secretary, 4 Rose Cottages
Hurstbourne Tarrant
Andover
Hants
SP11 0BB
Telephone:
01264 736500
Web:
www.bassclerotherapy.com/events/bas-vein-treatment-masterclass-webinars/
Email Us
For more information on this event please add your name, email and tel below.
LEARN HOW TO ACHIEVE THE BEST POSSIBLE CLINICAL AND COSMETIC OUTCOMES FOR YOUR PATIENTS.
This exciting interactive event features live treatment demonstrations of foam sclerotherapy and microsclerotherapy streamed from the clinic of vascular surgeon Mr Philip Coleridge Smith.
Mr Coleridge Smith's practice has evolved over many years of hands-on experience and study of the scientific evidence, and this workshop offers unrivaled opportunities for question and debate.
Register now to join the live event on Saturday 13th November 11:00 to 13:00 BST
Fee: £50, BAS members 50% discount
If you miss the live event a recording will be available afterwards for a fee of £70 (BAS members 50% discount)
Details:
Fee: £50, BAS members 50% discount (VAT excluded) | No Catering
www.bassclerotherapy.com/events/bas-online-sclerotherapy-workshop/
Course Sponsor(s) Information:
The non-profit British Association of Sclerotherapists is the only UK organisation dedicated to providing advice and education for professionals and credible information for the public. Sclerotherapy is considered by many to be the gold standard treatment for leg varicose veins and telangiectases.
Disclaimer
www.cosmetictraining.co.uk accepts no liability for the accuracy of training course information listed above. All information is provided by the training course operator.
Training courses listed on www.cosmetictraining.co.uk are neither run nor organised by www.cosmetictraining.co.uk or The Consulting Room (www.consultingroom.com). We do not validate, accredit or verify the quality or educational content of training courses in any way. It is up to the individual to ask to see CPD or qualification certification and to do due diligence to satisfy themselves of the course quality when applying with the provider.
You will need to contact the listed provided directly using the contact information on the left hand side of this page in order to enquire about the specific training course. Please do not contact us directly.