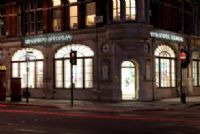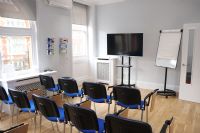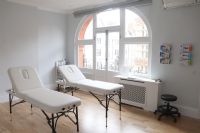 Conveniently located bespoke training premises in Central London near Harley Street and the West End.

Setup available in either lecture style (with up to 20 classroom chairs), treatment room style (with two treatment couches) or combined (two couches and up to eight classroom chairs). The room comes fitted with a plasma screen, laptop, computer connections and all required AV equipment. We can also offer display signs for your event provided outside the main building entrance and training room door, and refreshments and lunch can also be provided on request. Additional features include two treatment couches, medical consumables, stationery, flipcharts and wireless internet. Any special requests can be arranged though costs are subject to change. All costs are excluding VAT which will be added to the total.

Fees: Full day hire - £400 Monday to Friday or £450 at weekends / Half day hire - £225 Monday to Friday or £275 at weekends (VAT excluded)

Cancellation Policy: 10 or more clear working days notice - no charge. 6-10 clear working days notice - 50%. 5 or less clear working days notice - 100%.
Contact Details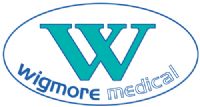 Wigmore Medical Ltd
Contact:
Arabella Tanyel

Address:
23 Wigmore Street
London
W1U 1PL
Telephone:
0207 514 5979
Email Us
For more information on this venue please add your name, email and tel below.
Venue Details
Address: 21 Wigmore Street, London, W1U 1PJ
Venue Fee: Full day and half day hire available (VAT excluded)
Venue Capacity: 20
Telephone Number: 0207 514 5979
Email Address: training@wigmoremedical.com
Web Address: www.wigmoremedical.com/RoomHire
Operating Hours: 09:00 to 18:00
Cancellation Policy: Details above
Venue Features: Flipcharts & stationery provided, Lecture theatre layout, PC equipment, Refreshments (tea, coffee, etc.), Treatment couches, TV, Wi-fi wireless internet
Operating Hours: 09:00 to 18:00
Cancellation Policy: Details above
Disclaimer
www.cosmetictraining.co.uk accepts no liability for the accuracy of training course information listed above. All information is provided by the training course operator.
Training courses listed on www.cosmetictraining.co.uk are neither run nor organised by www.cosmetictraining.co.uk or The Consulting Room (www.consultingroom.com). We do not validate, accredit or verify the quality or educational content of training courses in any way. It is up to the individual to ask to see CPD or qualification certification and to do due diligence to satisfy themselves of the course quality when applying with the provider.
You will need to contact the listed provided directly using the contact information on the left hand side of this page in order to enquire about the specific training course. Please do not contact us directly.