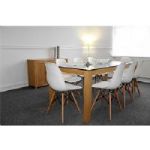 Reburbished conference/meeting room available for hire within a modern private clinic. Reception waiting area and secure car parking available. The clinic has close motorway access and is also a 5 minute drive from the city centre. The room has a large conference table and chairs.
Contact Details
Luxe Private Clinic
Contact:
Reuben Thaxter

Address:
22 Nuthall Road
Bobbersmill
Nottingham
Nottinghamshire
NG8 5AT
Telephone:
0115 929 3938
Web:
www.luxeprivateclinic.co.uk
Email Us
For more information on this venue please add your name, email and tel below.
Venue Details
Address: 22 Nuthall Road, Nottingham, NG8 5AT
Venue Fee: £50 (VAT included)
Venue Capacity: 12
Telephone Number: 0115 929 3938
Email Address: r.thaxter@luxeprivateclinic.co.uk
Web Address: www.luxeprivateclinic.co.uk/
Operating Hours: Monday to Saturday with Flexible Hours
Venue Features: Administrative support for delegates, Boardroom layout, DVD player, Flipcharts & stationery provided, Microphone & audio equipment, Outside catering can be sourced, Parking, PC equipment, Refreshments (tea, coffee, etc.), Suitable for laser demonstrations, Treatment couches, TV, Wi-fi wireless internet
Operating Hours: Monday to Saturday with Flexible Hours
Disclaimer
www.cosmetictraining.co.uk accepts no liability for the accuracy of training course information listed above. All information is provided by the training course operator.
Training courses listed on www.cosmetictraining.co.uk are neither run nor organised by www.cosmetictraining.co.uk or The Consulting Room (www.consultingroom.com). We do not validate, accredit or verify the quality or educational content of training courses in any way. It is up to the individual to ask to see CPD or qualification certification and to do due diligence to satisfy themselves of the course quality when applying with the provider.
You will need to contact the listed provided directly using the contact information on the left hand side of this page in order to enquire about the specific training course. Please do not contact us directly.